Nicole Ozark
Nicole Ozark is the first student to enter SIU's International Studies Program, our new interdisciplinary course of study.  And she's now headed off for an internship in Geneva, Switzerland, working for the US State Department. 
"My sister and I visited a number of campuses in Illinois, and we ended up at SIU because of the comfortable and welcoming atmosphere," Nicole says. "We were really impressed by the diversity of the student body, all sorts of diversity. We sat in on classes, and we saw how devoted the teachers at SIU were to making sure that their students were successful."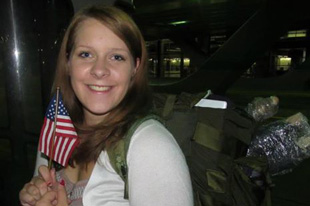 "I started out in the Air Force ROTC program, which helped me learn some important leadership skills, but I decided that there was more I could do as a civilian," Nicole adds.  A course on Islamic political movements was particularly influential on her. "I was surprised to learn about how much change starts at the grassroots in the Islamic world."
And her study of French is paying dividends.  "Having French under your belt is really valuable if you are interested in West Africa or North Africa." She's also picked up a minor in Spanish, and enjoyed participating in other activities around the department, including a Nazi-era film shown by the German club. 
Now it's off to Geneva.  "Geneva is a French speaking city surrounded by France.  I'll spend weekends in France and I'm going to learn a lot."