Scott Gimmy
Scott Gimmy was interested in Latin for pretty much as long as he can remember. But while his high school offered Latin, freshmen weren't eligible, so he ended up in Spanish. It didn't go well at first.  "I absolutely despised Spanish, because it was something hard, something I wasn't interested in. Just another subject.  I took four years, but when I got to SIU, my placement test score was so low that I was just one point away from starting over again with hola.  My high school teachers were great, the program was fine, but if you don't give two licks about it, you're not going to learn anything.  So at SIU I pursued Latin at first, and really liked it, but Spanish was just okay."
Then things changed--through a SIU study abroad program. "That's when I went to Costa Rica, and that's the beginning of a love affair with the Spanish language.  That's when I began to start applying what I'd been learning, and figuring out how to use it.  It was like trying figure out how to drive a manual car."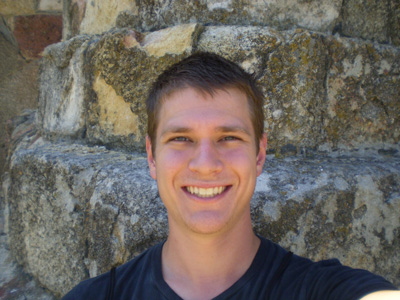 Scott in front of the Roman bridge in Salamanca.
"I started to realize that Spanish wasn't just another course, it was something people lived; they lived through it. You can study history, business, they will enrich your life, but by studying a language you can go and talk to other people, have an exchange of ideas, that's much more authentic than having someone else translate for you.  There's something much more satisfying in doing this."
"The different perspectives of the teachers at SIUC were extremely beneficial to me in continuing my study of Spanish. I was able to get the perspective of literature from Dr. Caceres; in my course on the history of Spanish I was able to see the transition from Latin to Spanish.  The faculty and staff were really instrumental in helping developing who I am as a teacher and Spanish and a person.  SIU has some terrific professors and staff who have helped me every step of the way."
What about Latin? "One of the reasons that I liked studying Latin here was that it gave me a greater perspective into how not only Latin worked as a language, but how language in general works.  I learned to put aside a bunch of the babble we put around language to see what it was actually doing, which led to a much more enriching experience of the language.  Latin has proved useful to me time and time again, and I use what I learned at SIUC almost daily in my Spanish classes-it really helps to know where a word came from when the students get to asking why all the time."
At SIU, Scott continued his study of Latin and Spanish, and entered our Teacher Education Program to gain teaching certification in Illinois. After teaching at Our Lady of Mount Carmel in Herrin, IL, he has now accepted a position teaching at Cape Central Junior High School in Cape Girardeau.