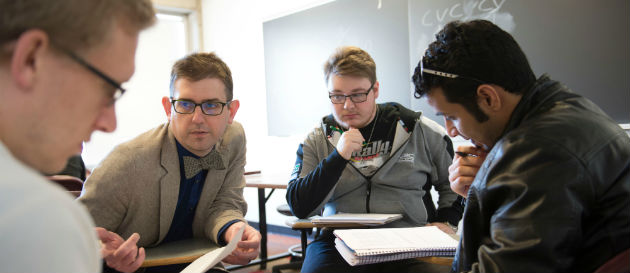 MA: TESOL
The Master of Arts degree in Teaching English to Speakers of Other Languages (TESOL) blends linguistic science with the art of classroom practice. It prepares students both intellectually and experientially so that as teachers they are capable of making wise and informed choices among different language teaching approaches, methods, and techniques. In addition, students will understand how differences among individual students, teaching and learning situations, and social structures influence decisions they will be called upon to make as teachers. The TESOL master's program provides a firm and broad foundation in current theories of language and language learning and graduates will be prepared to take on professional careers as teacher educators and curriculum specialists as well as classroom teachers.
There are two options for completing the MA TESOL degree, a thesis option and a non-thesis option. In both cases, 33 credits are required. Both options include three components: a group of core courses totaling 18 semester credit hours, elective courses totaling 9 semester hours, and a concentration ­ either a thesis (thesis option) or additional course work from a selected group of focus courses (non-thesis option) which provides the final 6 semester hours.
Required Core Courses for the MA in TESOL
(18 semester hours)
LING 472-3 Second Language Assessment
LING 505-3 Professional Study of Linguistics
LING 531-3 Pedagogical Grammar for TESOL
LING 541-3 Second Language Acquisition
LING 570-3 Theory and Methods of TESOL
LING 583-3 TESOL Practicum
Elective courses
(9 semester hours)
Students can select from a number of elective courses offered each semester. In some cases, courses offered by other departments may be used to complete elective requirements. Faculty advisors work with students to determine which electives will be most appropriate for the student's program.
Thesis
(6 semester hours)
Students following the thesis option are required to submit a thesis, which is a written summary of their independent research. The thesis is expected to include a clear statement of the topic, identification of the particular issues to be investigated, a literature review, an explanation of the procedures followed, and an analysis and discussion of the research findings. Each student writing a thesis must have a thesis committee composed of at least three faculty members, one of whom serves as Chair of the committee and must be from the Department of Linguistics. The thesis must be submitted to a public oral examination by the student's committee. The six credit hours used for the thesis work may be taken in one semester or divided across more than one semester but should coincide with the terms in which the student is actually working on the thesis project. Detailed information regarding the thesis may be found in Thesis Policies and Guidelines, copies of which are available in the department.
Focus courses
(6 semester hours)
Students following the non-thesis option are required to take two additional courses beyond those included in the core and elective categories. These courses serve as ones in which students can apply what they have been learning to designated topics, issues, and problems related to the teaching of English to speakers of other languages. These courses are writing intensive, which is to say that they require students to demonstrate their understanding through written assignments; they generally require a final written project. The two courses selected by the student as focus courses must be from the following group of courses:
LING 470-3 Foundations of Bilingual Education
LING 543-3 Bilingualism
LING 573-3 Computer-Assisted Language Learning
LING 582-3 Course Design for TESOL
LING 584-3 Teaching Composition in a Second Language
LING 586-3 English for Specific Purposes
LING 587-3 Teaching Reading in a Second Language