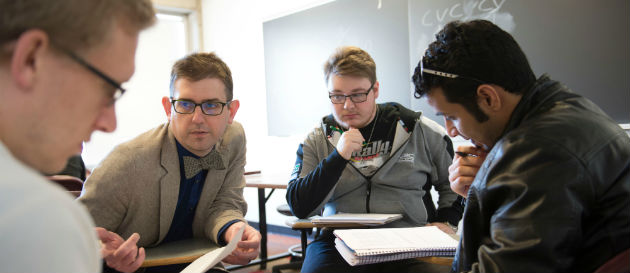 MA: Linguistics
The Master of Arts in Linguistics requires 36 hours of coursework including a mix of required courses and restricted and non-restricted electives in all the major linguistic subfields. There are two options for completing the MA: a thesis option and a non-thesis option. Thesis writers are required to do advanced coursework in phonology or syntax and 3-6 hours of thesis writing; non-thesis writers have a little more flexibility in their advanced coursework and take more courses at that level in lieu of thesis writing credits.
Required Courses: All Candidates
(9 semester hours)
All students must take the 3 courses in Set A:
Set A
505-3 Professional Study of Linguistics
503-3 Phonological Theories
508-3 Syntactic Theory
Restricted Electives: All Candidates
(9 semester hours)
All students must take at least 2 of the courses in Set B for breadth of study:
Set B
402-3 Phonetics
415-3 Sociolinguistics
417-3 Language Contact
445-3 Psycholinguistics
500-3 Formal Semantics
All students must also take at least 1 writing-intensive course from Set C:
Set C
552-3 Field Methods in Linguistics
506-3 Historical Linguistics
Requirements Specific to the two options
(6 semester hours)
The thesis option
Those students who wish to write theses must formally apply to the department Graduate Studies Committee by the beginning of the third semester. They must also take at least one of the advanced courses in Set D:
Set D
553-3 Advanced Phonology
558-3 Advanced Syntax
Thesis-writing students will also enroll in a minimum of 3 and a maximum of 6 hours of thesis writing.
599-3 to 6 Thesis Writing Course
The thesis is a written summary of a student's independent research conducted while enrolled in one of the department's MA programs. Every thesis is expected to include a clear statement of the topic, identification of the particular issues to be investigated, a literature review, an explanation of the procedures followed, and an analysis and discussion of research findings. Each student writing a thesis must have a thesis committee composed of at least three faculty members, one of whom serves as chair of the committee and must be from the Department of Linguistics. The thesis must be submitted to a public oral examination by the student's committee. Detailed information regarding the thesis may be found in Thesis Policies and Guidelines, copies of which are available in the department.
The non-thesis option
Students who do not write theses must take 2 additional courses from Set C and/or Set D.
Unrestricted Electives
To complete the 36 hours required for the MA in Linguistics, students may choose electives from among courses offered by the department or relevant courses taught by faculty in other departments, such as Anthropology, Communication Disorders and Sciences, Computer Science, English, Languages, Cultures and International Trade, Philosophy, Psychology, Communication Studies, and the College of Education and Human Services (subject to departmental approval). Where appropriate, students are encouraged to take courses in quantitative and ethnographic research methods taught in the Departments of Educational Psychology and Anthropology. Students are also encouraged to attend the annual summer institutes sponsored by the Linguistic Society of America and TESOL. Credit will be allowed for coursework successfully completed in this way.