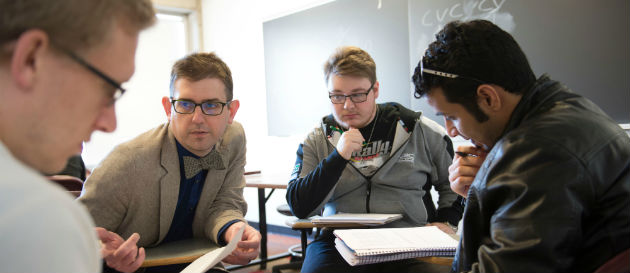 Application & Admissions Information
Admissions Deadlines
Students seeking admission to graduate programs in Linguistics/TESOL are encouraged to apply early in the Spring semester for admission in the following Fall. In particular, applying by January 25th ensures students full consideration for the first round of funding decisions ( e.g. Graduate Dean's Fellowship, Master's Fellowship, Assistantships) which begin on February 1st. The SIU Department of Linguistics has rolling admissions throughout the year and will accept applications at any time, however, funding is less likely to be available for applicants after April 30th, when the final round of funding decisions will take place.
To apply, go to the Graduate School Website or go directly to the Online Application.
The following documents must be submitted. They may be submitted online or directly to the Linguistics Department office:
Application form
Personal statement
Three letters of recommendation
TOEFL or IELTS documented score (required of all non-native speakers of English)
GRE scores (only if applying for a University Fellowship)
$50 application fee (paid by credit card to the Graduate School)
Transcripts of all college work
Admissions Requirements
Undergraduate GPA
Applicants for admission to either degree program, in addition to meeting the requirements for admission to the Graduate School, are expected to have an undergraduate grade point average of at least 3.0 (A = 4.0). Applicants with GPAs below 3.0 may be granted conditional admission. However, students admitted on a conditional basis must earn a graduate GPA of 3.0 after the first 12 hours of letter-graded course work; failure to do so will result in the student being dropped from the program.

Foreign Language Requirement
All students who are native speakers of English must have completed at least one semester of study of a foreign language within the preceding five years (excluding high school) and have achieved a grade of B or better. Those students who have achieved proficiency in a foreign language by means other than graded academic study must demonstrate that they have achieved a minimum level of novice-mid as defined in the proficiency guidelines published by the American Council on the Teaching of Foreign Languages. Students may also fulfill this requirement by taking one semester of a foreign language with a grade of B or better while they are enrolled in their MA program. In recognition of their experience in learning English, international students who have learned English as a second or foreign language are exempt from this requirement.

Application Fee
A non-refundable application fee of $65.00 USD must be submitted with the admission application. This fee may be paid with a credit card through our online application process. There is also an option to pay by check or money order when applying online.
Additional Requirements for International Students
International Students will also need to submit:
A photocopy of your passport page
Your official TOEFL or IELTS score (see below)
A Financial Statement Form for International Graduates Students with attachments (or an appropriate bank statement)
TOEFL / IELTS
International student applicants who are not native speakers of English must achieve a score of at least 90 (internet based) on the Test of English as a Foreign Language (TOEFL) or a score of 7.0 or greater on the IELTS. If a student does not have an admissible TOEFL or IELTS score, admission to the Graduate School may be processed as a conditional admission. The conditional admission is not automatic, but is based on the entire, complete application and is contingent on space in the program. A student given a conditional admission must complete our intensive English program (Center for English as a Second Language: CESL) before begining the MA program. All required CESL classes, including GSE (Graduate Student English), must be passed with a minumum score of 80 on the TOEFL before beginning the graduate degree program.