CoLA Outreach
Main Content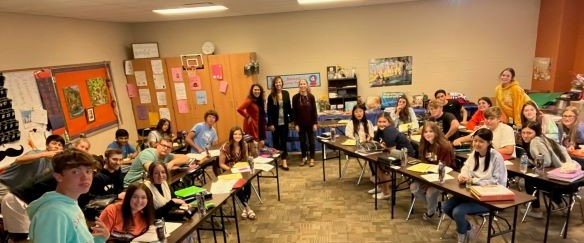 CoLA is working to strengthen our relationships with local high schools and beyond. Our faculty are not only experts in their fields, but they are also passionate and friendly educators. Contact us to set-up faculty presentations, discussions, or guest lectures.
Recent faculty talks have included discussions on careers for our majors, explanations of a Program field (example: What is Linguistics?), and presentations or lectures related to class content. We work with high school teachers to provide the type of talk that you want for your classroom. Faculty are also happy to speak to a club or organization. These talks can be done either in-person or through Zoom (dependent upon faculty availability and school distance).
We have faculty in Africana Studies, Anthropology, Communication Studies, English, History, Languages, Linguistics, Philosophy, Political Science, and Sociology.
Contact Us
Rachel Wolters
CoLA Recruitment Specialist
rachelw@siu.edu
618-453-1696
Interested in visiting one of our Programs on-campus?
If you want to bring your class to campus for a visit with one or more of our Programs in CoLA, we would be happy to arrange this.
RECENT TALKS, VISITS & EVENTS
HIGH SCHOOLS
ELEMENTARY SCHOOLS
MIDDLE SCHOOLS
HOMESCHOOLS
COMMUNITY COLLEGES
Below are examples of what high school teachers said about faculty talks in their classrooms:
Courtney Misener; Anna-Jonesboro High School, Biology Class
"I want to thank you for sending Dr. Reichard to our school. His presentation was amazing, and all of the students were very interested in what he had to share. The bell rang for the end of class, when most of them go to lunch, and not one student wanted to leave. Thank you so much for arranging the visit. I'm sure we will have to have him back to our school in the future."
---
Justin Crain, Crab Orchard High School, English Dual Credit class
"Thank you for setting it up, and please tell Dr. Shapiro thank you for taking the time to speak to my class. I actually had a few students come up to me after class to discuss some career options Dr. Shapiro mentioned and some who were just excited from meeting with a "real college teacher". There will certainly be some kids headed to SIUC from this bunch."
---
Gene Mitchell, Marion High School, American History class
"We really enjoyed Dr. Bean's lecture.  It was very informative. I would love for him to come again.  I will also look into him speaking for my Young Conservatives Club, if he would be interested."
---
Orlan Brown, Murphysboro High School, 4 Government classes
"It was our pleasure to have Dr. Grant visit and speak with us!  I know that many of my students enjoyed and benefited from the experience." 
---
Ericka Patton, Nashville High School, 5 Civics classes
"I just loved meeting Dr. Graham. The feedback from my students was positive! They loved what he talked about and his upbeat personality! He is incredibly knowledgeable and personable. Please put me on the list for next year!"
---
Theresa Stearns, Vienna High School, Spanish classes
"My students enjoyed the presentations and interactions with the presenters. I asked my students from my last period what they liked best and they said, 'The ladies! They were so nice!'"
---
Stephanie Warren, Jersey Community Middle School, 4 Social Studies classes
"Dr. Gretchen Dabbs of your department met with my four Social Studies classes last Friday. We are in the middle of an ancient Egypt unit, and Dr. Dabbs met with us to share some of her knowledge and talk about her experiences in Egypt. It was amazing to have such personal experiences brought to my students to enhance their understanding of ancient Egypt. Students were engaged and thoroughly enjoyed meeting with her. My principal came in to observe, and he was impressed at the level of engagement of all students. They were fascinated and all eyes were glued to the board during the meeting. We all (me included) learned a lot. It was an honor having her join us virtually for most of the day."
Additional Outreach
World Languages and Cultures Day takes place every October and brings hundreds of area high school students to campus.
History Fair, or Southern Regional Illinois History Day Competition, takes place every March. Projects are judged at the fair and qualifying entries move on to the State Competition.
SPARK for German is an after-school language and culture program for local schools.
COMMUNITY COLLEGE OUTREACH
Faculty present in Community College classrooms or events, too! Focus can be on careers, a field/program, or content-related. If you teach or work in a Community College and are interested in a guest speaker, please reach out to us!
Community Events
Do you have an event in which you think one of our programs or faculty members might be interested? Please reach out and tell us about it! CoLA wants to be involved in community events and organizations,