Lourdes Albuixech
Associate Professor, Spanish, Director of Graduate Studies, Graduate Advisor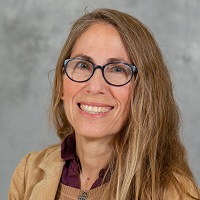 Lourdes Albuixech received her Ph.D from U.C. Riverside in 1997. A native of Spain, Dr, Albuixech specializes in Spanish Literature of the Middle Ages (especially Late Middle Ages), 
the Early Modern period, and in Spanish Women Writers. Her research has focused on topics such as sentimental romance, pastoral romance, Cervantine art, Golden Age drama, and early modern Spanish literature in general, and she has published in journals such as Anales cervantinos, Celestinesca, and Bulletin of the Comediantes.  More recently her areas of interest have expanded to include translation studies. Here at SIUC Dr. Albuixech teaches undergraduate and graduate courses in Spanish language, literature, culture, and translation.
For more information about our Graduate Program, please visit our Graduate page.