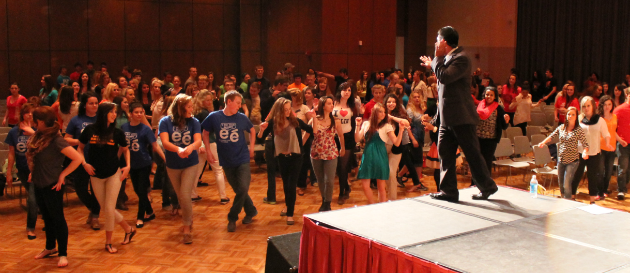 World Languages Day - Canceled
World Languages Day (WLD) — formerly Foreign Language Day
This event has been canceled.
---
FOREIGN LANGUAGE DAY HISTORY AND WORLD LANGUAGES DAY - NEW BEGINNINGS
Each spring for 44 years, between 500 and 1,300 area high school students and their teachers came to the SIU Student Center to participate in a morning jam-packed full of Scholar Bowl competitions and cultural presentations at Foreign Language Day. Due to budgetary constraints and staffing issues, Foreign Language Day was on hiatus during 2017 and 2018, but we were back in 2019 with a new name: World Languages Day!
This year will be the second year that we will not offer Scholar Bowl competitions, but we will feature our second annual Global Idol Talent Show, as well as an Information Fair. Students will show off their acquired language skills by way of a skit, a poetry reading, a song, or an approved presentation. Visit World Languages Day for more information.
The Student Center Corker Lounge will be filled again with information and demonstration tables and will include two popular activities: Origami Demonstration and "Your Name In" Japanese, Chinese, Arabic, Russian, Korean, etc. Also, we will feature The Global Idol Talent Show, as well as an Information Fair (details below).

Many of the same presentations organized by faculty members, graduate assistants, students, and volunteers - featuring many of the cultural aspects of the languages we teach - are going to be offered as in past years. WLD will allow area high school student representatives to compete in the Global Idol Talent Show. After all, why should we have all the fun?

Prior to the event, the WLD Committee brainstorms to come up with new and exciting ideas to provide a diverse selection of activities for our guests. We hope you can join us!

A few of the past years' Foreign Language Days are featured below in PowerPoint presentations. Check them out. (Note: to view in Slideshow format, click on "Slideshow" and "From the Beginning")