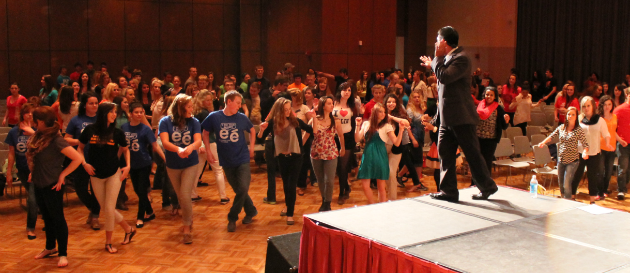 World Languages and Cultures Day
WLD 2022 took place in October. Look for more information on WLD 2023 in the coming months. The event is scheduled for October 3, 2023. See below for the 2022 schedule and more information on the event.
Every year for 46 years, between 500 and 1,500 area high school students and their teachers come to the SIU Carbondale campus to celebrate a day of world languages and cultures. In 2022, faculty, staff and community members came together to create a day jam-packed full of culture presentations and demonstrations from all of the languages and cultures taught at SIU and more! Around 900 students from local high schools attended the event.
Salsa with Julio, Zumba with Liz, virtual reality, language-focused gaming, name-writing in non-roman characters, cultural crafts and so much was available. We look forward to hosting you again in 2023!
Contact: wld@siu.edu
---
WLD 2022 was brought to you by the School of Languages and Linguistics.