Robert Schumann
Born: Zwickau, June 8, 1810
Died: Endenich, near Bonn, July 29, 1856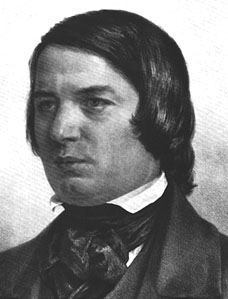 A master of the more intimate forms of musical compostitions, Schumann is unique in music history as being one of the great composers who concentrated on one musical genre at a time, with the bulk of his earliest compositions being for the piano. Schumann's piano music (and later his songs) remain supreme examples of the Romantic style of the second quarter of the nineteenth-century. Immensely influenced by literature and poetry, it is the dreamy nature of his music which most affects the listener, as can be heard in the fifth movement from the piano suite entitled Carnaval. Aside from three piano sonatas, most of his work for the instrument is in the form of suites comprising short, poetic pieces, each expressing a different mood. 
In 1840, Schumann was finally able to marry Clara Wieck, the daughter of his first music teacher, and who had opposed their union. Schumann's happiness found an outlet in the great number ofLieder he wrote during that year. The first number from his song cycle Dichterliebe, "Im wunderschönen Monat mai" (A Poet's Love: "In the beautiful month of May" ) is another example of the composer's harmonic and melodic style.
In order to publicize his own music and to stimulate and improve the musical tastes of the burgeoning concert-going public, Schumann founded Die Neue Zeitschrift für Musik (The New Journal for Music) in 1834, and remained active as its editor for ten years. In the pages of this publication, Schumann considerably raised the standards of music criticism and did much to promote the careers of young composers such as Frédéric Chopin, Hector Berlioz, and especially Johannes Brahms, who was to become a very close friend of Schumann. 
Throughout his life, Schumann felt himself divided by two contrasting natures: the gentle, poetic, Apollonian side, which he called "Eusebius"; and the more forthright, dramatic and stormy side he named "Florestan". Because of this rift in his personality, he feared insanity for much of his life, and eventually did spend his last years in an asylum.