Felix Mendelssohn
Born: Hamburg, February 3, 1809
Died: Leipzig, November 4, 1847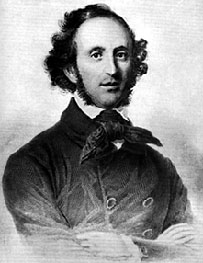 Having shown exceptional musical talent at an early age, Mendelssohn was encouraged by his family to study music and to make it his career. At the age of seventeen, he composed an overture based on Shakespeare's "A Midsummer Night's Dream" which was so successful that some years later he composed more music on the subject, resulting in a suite of pieces to be used in conjunction with productions of the play. Such a collection of pieces is known as incidental music, and the fleet and airy Scherzo from "A Midsummer Night's Dream" is typical of the seemingly effortless and beguiling style of this composer. Mendelssohn responded to nature as did most composers of the period One of the results of nature's influence was the Fingal's Cave Overture, also known as The Hebrides, which depicts the rocky, wind-swept coast and ancient caverns of Scotland. Mendelssohn's many travels also influenced two of his five symphonies, the third in A minor, known as the "Scotch" Symphony, and his popular Symphony no. 4 in A major , known as the "Italian" symphony, which incorporates melodies and dances that Mendelssohn heard while traveling in that country.
Felix Mendelssohn was one of the interesting anomalies of classical music; a stunningly talented composer who never went through the agonizing financial struggles and work_related travails that beset so many of his contemporaries and predecessors. He was born into a wealthy Hamburg family, studied the piano with his mother at an early age, and later took formal instruction on the piano from Carl Zelter in Berlin. When still only a child, he began to compose chamber works _ his family often held chamber soirées in their home, and young Felix had ample opportunity to hone his craft on these impromptu ensembles. Soon he was composing trios, quartets and operettas, and was making his mark as a pianist; his public debut on the keyboard came at the age of nine. By the time Mendelssohn was seventeen, his fame as a musical prodigy was spreading; that year, his first great composition _ the overture to Shakespeare's A Midsummer Night's Dream _ was produced.
At twenty, Mendelssohn still had not created most of the works that would assure his place as one of the leading lights in classical music lore (except the profoundly brilliant Octet for Strings, written in 1825); he did, however, demonstrate his keen musical sensibilities in another way _ the championing of the music of Johann Sebastian Bach. In the 80_odd years between Bach's death and Mendelssohn's revival of Bach's music, the old Baroque master had gone unnoticed, his music almost forgotten entirely. Mendelssohn, noting this lapse in popular judgment, set about to make things right, and in 1839 he conducted a full_scale performance of Bach's crowning achievement, the St. Matthew Passion. The performance was a smashing success, and it began a re_evaluation and appreciation of Bach's music that continues unabated to this day. Meanwhile, Mendelssohn was starting to forge a career of his own. In 1833, he applied for a faculty job at a prominent music school in Berlin, but was turned down. Later that year, however, he was appointed Music Director of the town of Düsseldorf; two years after that, he was offered the conductor's post by Leipzig's legendary Gewandhaus Orchestra. By this point, he had already begun to write symphonies, more chamber works, and one of his piano concertos, as well as one magnificent oratorio, St. Paul (1836). Ensuing career developments included a post at Berlin's Academy of the Arts and the origination of the Leipzig Conservatory in 1843. More works _ the last symphonies, the Violin Concerto, the Wedding March _ rolled from his pen before his health began to decline in 1846. Compounded by the death of his beloved sister, Mendelssohn's depression and decline proceeded until the next year, when he died at the tender age of 38.
Many critics of Mendelssohn claim that his powers of inspired melody and sparkling orchestration were at their height when he was a teenager, and declined steadily throughout the duration of his career. It is true that some of his greatest works were written early in his career, but the inexorable power of his later symphonies, the brilliant perfection of the Violin Concerto, and the mature craft displayed in other works fly in the face of such claims. He was a composer of traiditional Classical values, but to the rules of the trade he brought a delightful lyricism, a gift for orchestral color, and a power of melody_crafting that must be heard to be appreciated. He is one of musica history's most underrated geniuses.