Franz Schubert
Born: Himmelpfortgrund (Vienna), January 31, 1797
Died: Vienna, November 19, 1828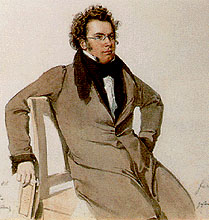 Schubert's music neatly bridges the Classical and Romantic periods through its use of lovely melodies, inventive scoring, and nature imagery, wedded to the traditional classical forms while at the same time expanding them. In his tragically short life, Schubert composed operas, symphonies, sonatas, masses, chamber music, piano music, and over 600 songs. But regardless of the genre, his gift for creating beautiful melodies remains almost unsurpassed in music history.
Schubert's music is also passionate, sometimes even dark, with an emphasis on major/minor key shifts and adventurous harmonic writing. Outstanding examples of his gift for melody can be found in the popular Piano Quintet in A major (Trout), which includes a set of variations on the tune of one of his popular songs, and from which it gets its nickname, "The Trout". Although left unfinished for unknown reasons, Schubert's stirring and beautiful Symphony no. 8 in B minor remains one of his most often heard and best-loved works.
But it is his songs, or German Lieder, for which Schubert is best known. Through his choice of beautiful poetry by some of the best writers of the day, his inspired melodies, and his sometimes elaborate treatment of the piano part, many of Schubert's songs are miniature masterpieces of poetic and dramatic beauty. His two song cycles (groups of poems by a single or various authors selected because of thematic content, and usually published together), yield some of the finest examples of Schubert's Lieder. "Wohin?" from the song cycle, Die schöne Müllerin (The Fair Maid of the Mill) is an outstanding example of the almost limitless artistry of this composer. Schubert's Lieder would come to influence the song-writing of many later composers, including Robert Schumann, Johannes Brahms, and Hugo Wolf (1860-1903).