Undergraduate Research
Jori Bonadurer, Classics, English Education, and Art History
Faces of Death: Images of Masks on Roman Sarcophagi
Faculty Mentor: Dr. Mont Allen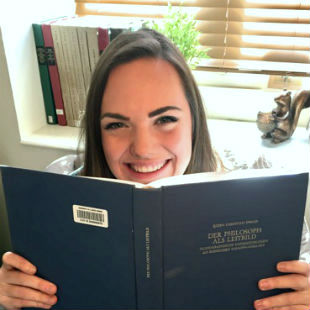 Update: In April of 2017, Jordan presented the fruits of her research at the St. Louis Area Undergraduate Research Symposium (STLAURS). Her presentation there won the event's prestigious Top Humanities Poster Prize. In recognition of his mentorship of Jordan and other undergraduates, Dr. Mont Allen was awarded the 2017 CURCA Faculty Mentor Award of Excellence.
Under the mentorship of Dr. Mont Allen, Jordan (Jori) Bonadurer is conducting research on Roman sarcophagi: those elaborately carved coffins, often richly decorated with mythological imagery, in which ancient Romans buried their dead. The research focuses on the various clusters of visual motifs found on these sarcophagi, above all the frequency with which Greek theatrical masks (both tragic and comic) appear, and their possible connections with other types of imagery, such as depictions of the Four Seasons.

To uncover these connections, Jordan is studying every specimen—more than a thousand in all—documented in the field's twenty massive German-language compendia. By tabulating each appearance of a mask on these pieces, she will acquire the quantitative support necessary to articulate the significance of this imagery for Roman viewers.

As a double major in Classics and Art History, Jordan is deeply invested in the study of the Ancient world, and specifically focused on Roman art, in which she is considering graduate study.
---
Jahiah Gordon, Foreign Language and International Trade and German
What Does It Mean to Be "German"?
Faculty Mentor: Dr. Janet Fuller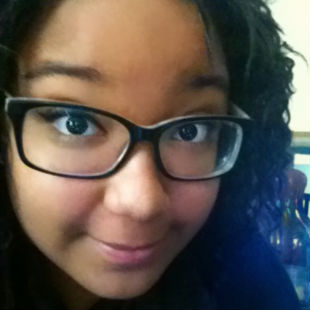 Jahiah Gordon is an Undergraduate Research Assistant for Professor Janet M. Fuller, a linguistic anthropologist in the Department of Anthropology. The project she is working on asks the question, how do young people living in Berlin, Germany conceptualize what it means to be German and/or to belong in the space that is Germany, and how do they talk about diversity in contemporary society? What discourses of belonging or othering circulate among this generation, who have grown up in a Germany which is a land of immigration? The analysis for this study focuses on a set of nine interviews of Berliners age 17-28, including those whose parents come from both East and West Germany, Italy, Turkey, and Angola.

Jahiah's coursework so far has examined Germany in several aspects: historically (in film), in literature and writing, and as a language. Her research with Dr. Fuller supplements her coursework by allowing her to study Germany's contemporary culture, and the legislation and stigmas surrounding issues such as immigration, and bi/multilingualism; through her research, she is understanding more about Germany's social development and the paradigm shift in Germany's linguistic discourse.
---
Sarah Hollis, Foreign Language and International Trade – Chinese
Importance of Cross-Cultural Understanding in International Trade: A Case between the United States and Taiwan
Faculty Mentor: Dr. Shu-Ling Wu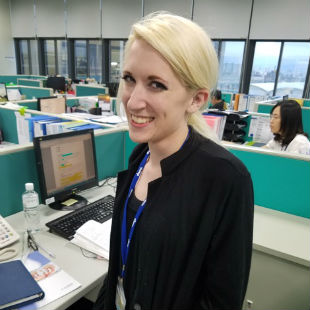 Sarah Hollis is a major in Foreign Language and International Trade with a focus on the Chinese language and culture. She completed two international internships in 2016 in Taiwan, one with Sun Chun Stainless, a stainless steel company with 30 employees and the other with Intai Technology, a technology firm with over 400 employees. These experiences inspired her Honors Senior Thesis, in which she explores the cross-cultural differences that exist between the United States and Taiwan and why an understanding of workplace culture matters on a personal level as well as on a business level in international business. The ultimate goal of her study is to offer valuable insight on how to bridge the gap between these two cultures so that business relations can be improved.
---
Clayton Killion, Classics
Sarah Orkin, Classics and English
The Meditationes Vitae Christi Manuscript in SIU's Special Collections
Faculty Mentors: Dr. Yasuko Taoka and Dr. Daniel Moore (Indiana State Univ.)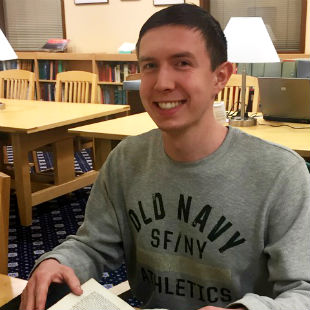 Classics majors Clayton Killion and Sarah Orkin are transcribing and translating an undiscovered treasure in SIU's Special Collections. SIU's edition of the Meditationes Vitae Christi ("Meditations on the Life of Christ") may be one of the oldest versions of this text—the other three oldest editions, from the late 1400s, are in the Vatican; Oxford, England; and Leipzig, Germany. This work was a very popular devotional text used primarily by nuns, and there are over two hundred total copies of the work in existence.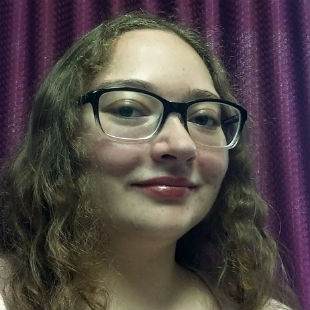 Clayton and Sarah are examining the SIU version of the work: first, they are learning the idiosyncratic handwriting in which the text is written, then comparing it with the other versions of the MVC from around the world. Finally, they will be working on an epilogue to the manuscript that appears unique to the SIU version and which has never been published before; they will be transcribing the Latin text and translating it into English.
Clayton and Sarah's proficiency in Latin make them uniquely skilled for this research project. Moreover, their interests and career-goals are well-suited for the project: Clayton is interested in graduate study in early Christian texts, and Sarah is interested in a career in museum collections management.
Clayton writes occasional blogs about the project. Check them out here:
https://lectionariesblog.wordpress.com/tag/mvc-project/
---
Grace Vargas, Anthropology
Andrea Storey, Spanish Education & Linguistics
Faculty Mentor: Dr. Alejandro Cáceres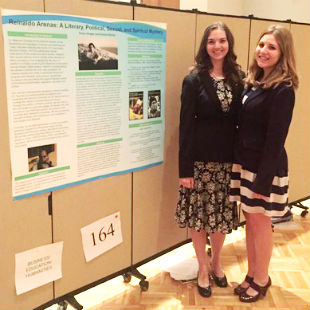 Grace Vargas and Andrea Storey work together as undergraduate research assistants to Dr. Alejandro Caceres of the Spanish Department, aiding him as he works on material to be published, while building their own comprehensive understanding of the subject matter. Their research, with Dr. Caceres' guidance, focuses on certain influential Latin American authors/poets; analyzing their works, techniques, motivations, messages, and life stories, and the resulting social, political, and philosophical implications. Andrea and Grace, in conjunction with studying their faculty mentor's work thus far, gather supplemental, relevant information on the aforementioned topics for Dr. Caceres. He uses these materials and his assistants' feedback to aid in his investigation and writing. Last spring, they researched Cuban author and poet Reinaldo Arenas, and now they are focusing on Uruguayan writer Mario Benedetti. For the context of Arenas' work, they learned about politics in Cuba, LGBTQ history, AIDS and the author's differing reputations. As for Benedetti, through his recurring themes of isolation, spirituality, and revolution, they are examining how his and his characters' experiences were a greater metaphor for an entire Uruguayan generation in political and often personal, crisis. All research, writing and discussion is bilingual. 
Grace is majoring in Anthropology and double minoring in Spanish Language and Latino Studies. Her strong personal interest in culture and social justice means that she not only finds this research fascinating, but this work is also teaching her analytical skills she uses academically and will continue to become more proficient in.
Andrea is double majoring in Spanish Education and the Bilingual Education & ESL track of Linguistics, and hopes to teach Spanish and eventually direct and reform bilingual education programs. This research opportunity provides an exciting opportunity to dive into the Latin American cultural components she will eventually be teaching, as well as help further her fluency in the Spanish language.