American Sign Language Honor Society (ASLHS)
The SIU American Sign Language Honor Society (ASLHS) celebrates and honors students who have made an enthusiastic commitment to the study of ASL and Deaf culture.
The students invited to join ASLHS are part of an elite group of students from across the United States and Canada. Out of the hundreds of thousands of students learning ASL each year, these students here have persevered and maintained the highest grade point averages, performed community service, and have pursued excellence. For these reasons they are inducted into the ASL Honor Society.
While the ASLHS membership is open to all ASL students, graduation honors are reserved for those students who meet the highest qualifications. These include:
Being in the final year of study at the institution
Having an overall grade point average minimum of 3.0
Having a minimum 3.5 grade point average in all ASL and ASL-related coursework
Documented volunteer service that benefits the Deaf community
2019 Graduation Honors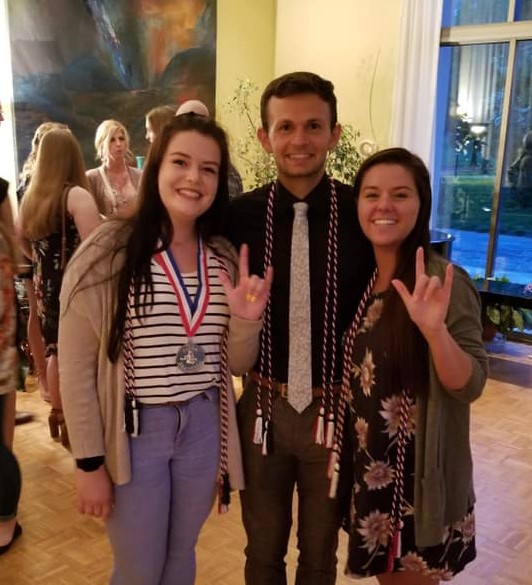 Pictured: Chris Edwards, Josie Arnett, & Elly Walker.
2018 Graduation Honors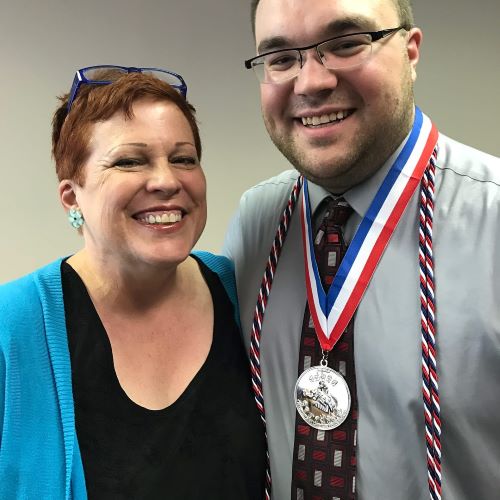 Pictured: Pam Walker (Senior Lecturer) & Christian Kurka.