CoLA Student Mentors
Main Content
Student Mentors
Mia Edwards
Hey Salukis!!! My name is Mia Edwards, and I am from Las Vegas, Nevada! This year I am a junior here majoring in Sociology and Sports Administration with a minor in Japanese. I am on the Women's Soccer Team for SIU and I am also a Saluki Ambassador and Head Chair of Saluki Unity in SAAC (Student Athlete Advisory Committee). I love being active within SIU and working with others around campus in all departments I am involved in! Outside of SIU, I love being with my friends, cooking and going around trying new restaurants and enjoying all that Carbondale has to offer!
Mia is assigned to Dr. Jeff Punske's UNIV 101 Class in Fall 2023.
Fall 2023 Office Hours
Monday: 10-1
Wednesday: UNIV 101 10-10:50, 11-2
Friday 12-3
---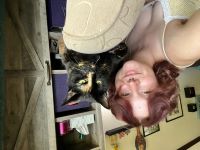 Rhi Taylor
Hey everyone!
My name is Rhi Taylor, I use They/Them pronouns. I am from Charleston Illinois, and I am a sophomore here at Siu. I am double majoring in Anthropology and Classics and double minoring in Ancient Practices and History. I am a part of the Anthropology Club and the Backpacking Club. Outside of school, I enjoy being outdoors, hiking, camping, and just enjoying nature. I have gone backpacking and hiking with the backpacking club and just with friends. I love to find gorgeous new scenery here in SOIL and I love to share my favorite places with everyone.
Rhi is assigned to Dr. Enrique Paz's UNIV 101 Class in Fall 2023.
Fall 2023 Office Hours
Monday: 12-1, 2-3
Wednesday: 12-1, 2-3
Thursday: 10-1, UNIV 101 1-1:50, 2-3
---
Jaedyn Vela
Hello! Hola! And hello in many more ways!
I'm Jaedyn Vela, a first-generation college student and a senior this year majoring in International Studies and double minoring in Spanish and ASL (American Sign Language). Originally, I come from the middle of nowhere (Collison, Illinois), but I like to make it known! I'm a Resident Assistant (RA) of Ambassador Housing where we make a Home Away from Home for all the nations! Different languages, cultures, and foods, as well as meeting new people are things I enjoy. I've been to Zambia and Spain and would love to travel more! I'm Mexican American, born in the US, and still have lots to learn about Spanish and the culture. For a few years I've been Financial Officer for Chi Alpha Christian Fellowship where we love and welcome everyone regardless of background or belief. Sports are my jam, as well as art, music, hiking, reading, and of course eating great food. I'm here for you in any way I can be, if that means being a friend, telling you about town or the campus, providing resources, advice, or more, I'm here. Know you're never alone and that there is always someone that cares and would like to help :)
Jaedyn is assigned to Dr. Ulrich Reichard's UNIV 101 class in Fall 2023.
Fall 2023 Office Hours

Monday:  2:15-4:15 pm 
Wednesday: UNIV 101 10:00-10:50 am; 11:15-4:30 pm 
Thursday:  8:45-10:30 am