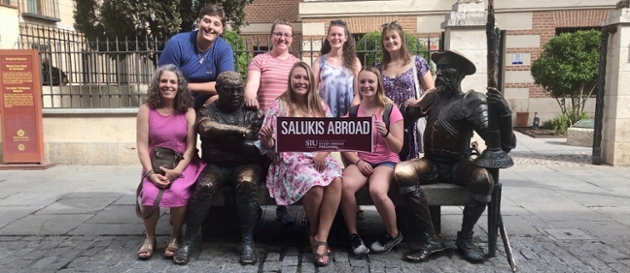 Internships & Study Abroad
Here's what one SIUC student said about study abroad at the Univeristy of Alcalá in Spain:
"It was the best experience I've had. It was something that I'm so happy I did. I was there for a month and I could have been there longer. There's just so many opportunities and ways to push yourself outside of your comfort zone."
There's no better way to improve your language skills, and immerse yourself in another culture, than studying or doing an internship abroad. SIU faculty regularly lead summer study abroad trips to Japan, Spain (at the Universty of Alcalá, pictured above), Egypt, and Greece. And Foreign Language & International Trade students do an internship abroad as part of their program of study.
If our faculty-run programs don't meet your needs, the SIU Study Abroad office can assist you in finding a program almost anywhere in the world that will fit your interests, timeframe, and budget.
We are able to offer scholarship support to many of our majors doing study abroad—study abroad is far more affordable than you may imagine.