About the College of Liberal Arts
Main Content
One with many.
Academic diversity. The essence of a traditional university education. The College of Liberal Arts represents both. Our strength comes from within. Our programs, our faculty, and our students refuse to be confined within narrow definitions. We reach across typical boundaries to create new approaches to old questions, to ask new questions, to find answers to questions that haven't even been asked yet. Our students have the power of many behind them. And with that power, they learn to stand out as individuals.
"Liberal Arts" includes the social sciences and humanities. That includes majors such as anthropology, linguistics, sociology, foreign languages, literature -- and many more. We are the starting point for the careers of countless professions cultivated from a solid liberal arts education. These areas are often called "disciplines." So when we say we are a college that values "interdisciplinary study," we mean that you'll find humanities in our social sciences and social sciences in our humanities. It also means that we've created minors that maximize the individual strengths of our faculty, bringing professors from different programs together to offer interdisciplinary minors that help you target your major. (Most of our majors are also available as minors, too.) Our University Studies program allows for maximum customization as students build their own majors. Liberal Arts is a major part of the University Core Curriculum. That's because much of what you expect from a university education, CoLA delivers.
With a foundation in the liberal arts, you can build a career almost anywhere. You'll find our students creating and translating business marketing campaigns in Madrid; presenting individual, faculty-mentored research at national conferences; and seeing their work published in journals and magazines. Initiative is always rewarded. So when someone asks you, "What will you do with a liberal arts degree from SIU?" you can answer, "Anything I want."
Our Schools
School of Africana and Multicultural Studies
School of Anthropology, Political Science, and Sociology
School of History and Philosophy
School of Languages and Linguistics
School of Literature, Writing, and Digital Humanities
---
Our Programs
---
Forms and Documents
Common forms and documents can be located here.
Our Centers
Research. It's how discoveries are made. It's how we as a College contribute to the University's academic status as a top tier research university. And it's part of how we contribute to the communities around us. Our research and resource centers complement our academic programs by providing students with opportunities for research and hands-on learning in specific fields.
Watch our Video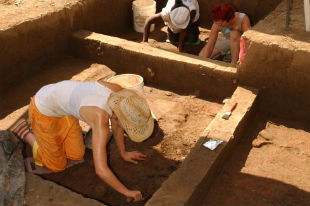 Researching in the field at digs from Southern Illinois to South America to Micronesia, CAI archaeologists and the students who assist them bring the latest technology to the preservation and understanding of the physical record of the past. CAI also maintains an artifact collection for teaching and cultural preservation.
The Center for English as a Second Language (CESL) is part of SIU Linguistics and is staffed by members of the University faculty on the Carbondale campus. The intensive English language program at CESL is open to prospective University students, professional people, and others who want to learn English as a second language.