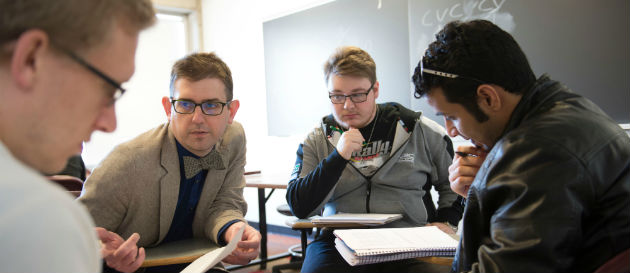 Double MA (Linguistics & TESOL)
A popular option with many of our students has been to pursue a double major in both Linguistics and TESOL. The double major requires the student to complete 45 credits with 33 hours coming from courses in both TESOL and Linguistics. Six hours are elective courses of the students' choosing, and six hours are devoted to the thesis. The double major provides the student with the background in theoretical linguistics that will allow them to continue their education at the doctoral level as well as the ability to apply it to the classroom and the preparation for teaching English to non-native speakers in a classroom setting.
Required Courses
(33 credits)
Ling 402 Phonetics
Ling 505 Professional Study of Linguistics
Ling 415 Sociolinguistics
Ling 503 Phonological Theories
Ling 506 Historical Linguistics
Ling 508 Syntactic Theory
Ling 531 Pedagogical Grammar for TESOL
Ling 541 Second Language Acquisition
Ling 549 Research Methods
Ling 570 Methods and Materials for TESOL
Ling 583 TESOL Practicum
One semester of a foreign language within the preceding five years
Electives
(6 Credits)
Elective courses may be selected from courses offered within the department or from courses taught by faculty in the Departments of Anthropology, Communication Disorders and Sciences, Computer Science, English, Foreign Languages and Literatures, Philosophy, Psychology, Communication Studies, and the College of Education. Where appropriate, students are encouraged to take courses in quantitative and ethnographic research methods taught in the Department of Educational Psychology and Anthropology.
Thesis
(6 credits)
A thesis is required of all students in the MA in Linguistics and TESOL program. The thesis is a written summary of a student's independent research conducted while enrolled in one of the department's MA programs. A thesis is expected to include a clear statement of the topic, identification of the particular issues to be investigated, a literature review, an explanation of the procedures followed, and an analysis and discussion of research findings. Each student writing a thesis must have a thesis committee composed of at least three faculty members, one of whom serves as chair of the committee and must be from the Department of Linguistics. The thesis must be submitted to a public oral examination by the student's committee. Detailed information regarding the thesis may be found in Thesis Policies and Guidelines, copies of which are available in the department.