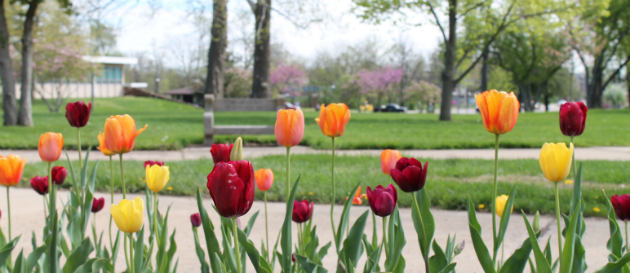 Alumni Stories
GINA BREEN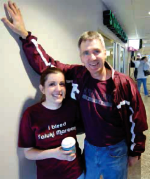 2006 (BA Spanish), 2007 (BA French), 2010 (MA French)
Featured with her father in the SIU Alumni Magazine (Summer 2015). Click here to read the original feature in PDF format.
After completing three foreign language degrees at SIU Carbondale and serving as a member of the Student Alumni Council, Gina is currently working on her PH.D. at Louisiana State University.
ALINE DAVIS WILSON
In early May, the department received an update from Aline Davis Wilson, BA 1973, MA 1981 in French.
Aline is a retired Reference Librarian presently living in Florida since 1989. She worked for the University of South Florida, Tampa and received a grant-in-aid in 1997 to study Library Science. Aline earned a MA in Library Science and worked for the Hernando County Public Library in Brooksville, FL for 12 years as a Reference Librarian and Manager of the Reference Department.
She retired in 2012 and is pursuing freelance writing on the Yahoo!Contributor Network. Her latest work is a chapter entitled Job Stress and the Librarian: Coping Strategies from the Professionals (Mcfarland & Co, Inc. to be published July 15, 2013).
Her husband Paul, BA 1981, is still working and their son Michael and his wife live and work in Orlando.
Thanks for sharing, Aline. We wish you continued success in your writing endeavors!
BONNIE JUUL
Graduated 1987
Occupation: Chiropractor
Ms. Juul writes," I've moved back to town this past week and would like to support and reconnect with the German program. 
As far as German goes - I earned my B.A. many years ago, lived in Germany for a short time, then went into teaching ESL. I have recently started brushing up on my German and plan to take the Heilpraktiker exam in Germany so I can have working vacations there. (From what I understand there's a limited number of well-trained chiropractors in Germany.)"
The department wishes you well on your exam and many pleasant trips to Germany to come. Thank you for letting us know.
ANDREW JACKSON
Graduated: 2004
Occupation: Systems Manager - Division of Biology and Biomedical Sciences - Washington School of Medicine
Mr. Jackson writes, "Miss my years studying Latin and Greek at SIUC. Happiest days of my academic career and do not regret pursuing my BA in Classics. Fondly remember Greek with Dr. Williams and Latin with Dr. Johnson. Also the course on Plato that Dr. Johnson taught. Still have all my course books."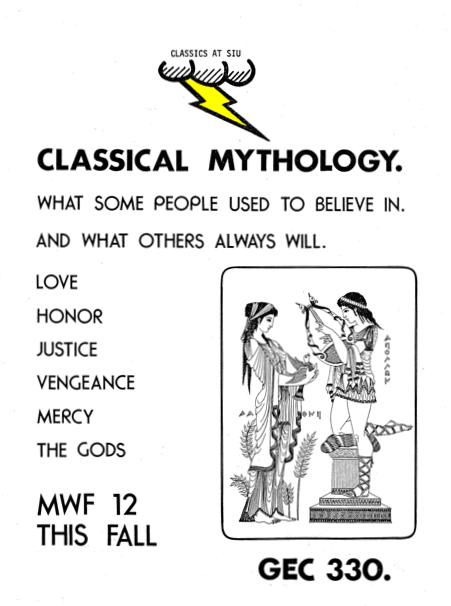 Thanks, Mr. Jackson. Quite a nice complement for the teaching efforts of each professor.
Dr. Johnson until recently served as the Chair of Languages, Cultures, and International Trade and is still teaching, while Dr. Williams has been retired a few years. 
[Pictured right: A flier for Dr. Williams' legendary Mythology course.]