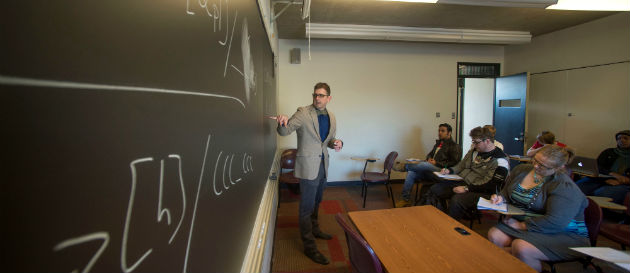 BA in Linguistics with Specialization in ESL/Bilingual Education
The major in linguistics with specialization in ESL/Bilingual Education (also known as English as a New Language or ENL) consists of 33 semester hours comprising a core of basic courses in the structure of the English language and pedagogical methods. The core of this track consists of 24 semester hours in Linguistics 200 or 201, 300, 340, 341, 353, 431, 470, 472, and 9 semester hours of linguistics electives. 
Required Core Courses for the BA in Linguistics with Specialization in ESL/Bilingual Education
(21 semester hours)
LING 200: Language, Society and the Mind
OR
LING 201: Language Diversity in the USA
LING 300: Introduction to Descriptive Linguistics
LING 340: Second Language Acquisition
LING 341: Introduction to Intercultural Communication
LING 353: Methods and Materials of TESOL
LING 431: Pedagogical Grammar
LING 470: Theoretical Foundations of ESL and Bilingual Education (note this course also fulfills college-level WAC requirement)
LING 472: Assessment of ESL and Bilingual Students
Elective Courses
(9 semester hours)
Note: Up to 6-hours (generally 2 courses) of elective credit in Linguistics may be in courses from other departments (such as Anthropology, Computer Science, English, Languages, Cultures, & International Trade, English, Philosophy, etc.), subject to approval from the Linguistics Department.
Sample 33-Hour Degree Program
LING 200: Language, Society and the Mind

(OR LING 201)

LING 300: Introduction to Descriptive Linguistics (required)

LING 320i: Language, Gender and Power (elective)

LING 340: Second Language Acquisition

(required)

LING 341: Introduction to Intercultural Communication

(required)

LING 353: Methods and Materials of TESOL

(required)

LING 431: Pedagogical Grammar

(required)

LING 470: Theoretical Foundations of ESL and Bilingual Education

(required, WAC)

LING 472: Assessment of ESL and Bilingual Students

(required)

LING 473: Computer Assisted Language Learning (elective)

LING 489: Teaching a Vocabulary in a Second Language (elective)