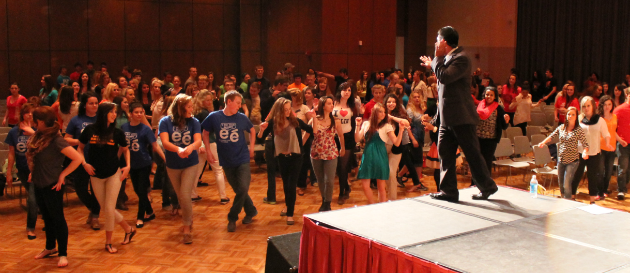 Foreign Language Day (FLD)
Foreign Language Day 2016
For the latest on this year's Foreign Language Day, click here.
Foreign Language Day History
Each spring, over 1200 area high school students and their teachers come to the SIUC Student Center to partake in a morning jam-packed full of Scholar Bowl competitions and cultural presentations. 
The Student Center ballroom area is lined with information and demonstration tables and includes two popular activities: origami demonstration and "Your Name In" Japanese, Chinese, Arabic, Russian, Korean, etc.
Those students not competing in Scholar Bowl competitions in Latin, French, German, or Spanish can find plenty of other activities to participate in. 
Skits and presentations are organized by faculty members, graduate assistants and students that feature many of the cultural aspects of the languages that we teach. Prior to the event, months of planning and creating are in motion to provide a diverse selection of activities for the busy program agenda. 
A few of the past years' Foreign Language Days are featured below in PowerPoint presentations. Check them out. (Note: to view in Slideshow format, click on "Slideshow" and "From the Beginning")