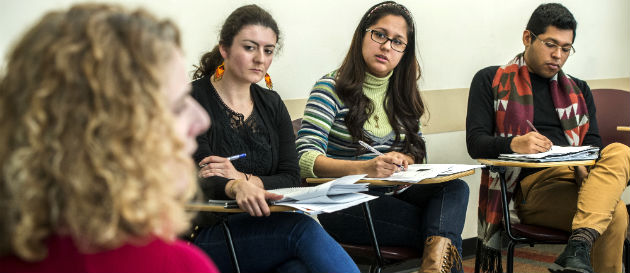 Graduate Admissions
GRADUATE ADMISSIONS
For admissions requirements, follow the link to your left.  
SUBMISSIONS PROCEDURE:
Submit an application - (apply online)
A non-refundable application fee of $65.00 must be paid with the application. Credit cards accepted: VISA, MasterCard, Discover, American Express
REQUIRED MATERIALS:
A statement of purpose, (250-300 words), in Spanish and English, explaining why you are interested in an advanced degree, specifically from our program, and what you plan to do once you have completed it: interests, career plans, etc. Submitted through Apply Yourself
Three confidential letters of recommendation submitted through Apply Yourself
Official transcripts from all the undergraduate and graduate universities you have attended submitted through Apply Yourself (Transcripts from foreign universities should be accompanied by a certified translation)
A recording (audio file-through email) of the candidate speaking for 3 to 5 minutes in Spanish and 3 to 5 minutes in English, on an everyday topic sent directly to the Director of Graduate Studies
Note: If you are interested in being considered for a teaching assistantship, then you will need to fill out and send in an Application for Teaching Assistantship Form along with your application and application materials through Apply Yourself.
SPECIAL NOTE TO INTERNATIONAL STUDENTS:
International students are also required to send in the following materials through Apply Yourself:
A copy of their passport or permanent resident card
A financial statement
If you are a non-native speaker of English and do not have an American B.A., The English language requirement may be met by submitting:

a score of 550 on the paper-based TOEFL
a score of 213 on the computer-based TOEFL
a score of 80 on the internet-based TOEFL
a score of 6.5 on the IELTS
a score of 5.0 on the iTep Academic Plus Exam
a score of C1 on the Cambridge English Exam
Your application cannot be processed without the score.
Note: The Graduate Record Exam (GRE) is not required for admission.
Questions about the graduate program can be directed to the Director of Graduate Studies, Dr. Lourdes Albuixech, at: albuixel@siu.edu. 
ADMISSION DEADLINES
February 1 (for fall semester)