Pamela Walker
Senior Lecturer, American Sign Language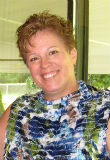 Pam Walker took her first ASL class as a sophomore in college, fell in love with the language and has been pursuing it with laser focus ever since. She loves seeing students develop the same passion for ASL. She currently teaches all classes needed for the Minor in ASL here at SIU.
Pam received her MA from Gallaudet University in Washington, DC. When not teaching, Pam loves the theater; acting, interpreting and being in the audience. Most recently, she has served as ASL Coach for productions of 'The Ware Trilogy' at Carbondale's The Stage Company.
She is the 2010 winner of SIU's Excellence Through Commitment Term Teaching Award.