Itxaso Rodríguez-Ordóñez
Assistant Professor - Spanish and Linguistics and Spanish Graduate Assistant Supervisor, Spanish Advisor, Spanish TeP Advisor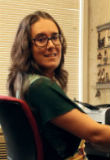 Office: Famer 2022
Phone: 618-453-5426
Itxaso Rodríguez-Ordóñez received her Ph.D. in Hispanic Linguistics at the University of Illinois at Urbana-Champaign in 2016. Her research focuses the mechanisms that emerge in contact situations that lead to typologically common and uncommon linguistic patterns. Her work on contact-induced linguistic phenomena falls within the intersection between sociolinguistics, typology, and language acquisition. Additionally, she incorporates linguistic attitudes and ideologies to explain mechanisms of contact-induced change. Most of her work pertains to the Basque-Spanish contact situation in Spain. She has done work on the acquisition of Basque ergativity and contact effects in Basque subject pronoun expression and pitch-accents in Gernika Basque. More recently, she has also focused on contact effects in the Linguistic Landscapes of Spanish and English in Pilsen, Chicago. 
For more information about our Graduate Program, please visit our Graduate page.
Check out Dr. Rodríguez-Ordóñez's academia.edu page for her research and publications.
Click here for an interview with Dr. Rodríguez-Ordóñez