Alan Kim
Professor, East Asian Studies (Japanese)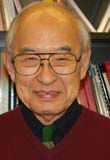 Office: Faner 2024
Phone: 618-453-5421
Email: alanhkim@siu.edu
On sabbatical fall 2017
Just recently, Dr. Kim published a book (written in Japanese) "Grammatical Encoding of Politeness: Systemic Metaphorization in Japanese Honorifics (2014). Tokyo: Akashi Shoten Book publishing.  
Also, an academic group, the International Circle of Korean Linguistics (ICKL), nominated Dr. Kim to be president of their organization. The council made a motion to vote during their general business meeting at the University of Chicago on July 25, 2015. The vote was unanimous. Dr. Kim accepted.
His tenure of presidency is for two years, effective from 2015 through 2017. ICKL boasts 360-some members from all over the world and publishes a peer-reviewed scholarly journal, KOREAN LINGUISTICS, (John Bejamins Publishing Company).