Jacob Haubenreich
Assistant Professor, German, German Graduate Assistant Supervisor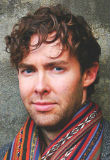 Jacob Haubenreich received his Ph.D. in 2013 from the University of California, Berkeley. His research focuses on the the materiality and mediality of writing and reading, theories of authorship, visuality and textuality, hermeneutics and posthermeneutics, and new materialism(s). Broader interests include 19th-21st century German literature and philosophy, media history/theory, multilingualism, literary theory, philosophy of language, semiotics, and narrative theory. He has presented and published research on topics ranging from the scenes of writing, editing, and reading among writers such as Rainer Maria Rilke, Thomas Bernhard, and Peter Handke, to the narrative collapse of reality in E.T.A. Hoffmann's Rat Krespel (1818), to the medial construction of the reader in Sebastian Brant's Ship of Fools (1494).
Click here for CV and publications.

Click here for an interview with Dr. Haubenreich.