Carola Daffner
Associate Professor of German, Section Head and Advisor, Director of Undergraduate Studies/International Studies/Foreign Language and International Trade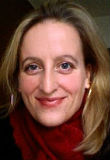 Carola Daffner is an Associate Professor of German and German Section Head. She enjoys teaching a wide range of courses, from German language and culture courses to courses taught in English, such as a "Film in the Third Reich" class and a "Germanic Myths and Legends" course. For her efforts inside and outside the classroom, Daffner received the 2014-2015 College of Liberal Arts Outstanding Teacher Award (Tenured & Tenure-Track Faculty).
In her research, Daffner focuses on gender and the politics of space in German literature and film. Her work has been published in several journals, including the German Studies Review, the Journal of Austrian Studies, and the Women in German Yearbook. Her monograph Gertrud Kolmar: Dichten im Raum (Königshausen & Neumann) appeared in 2012. Her co-edited anthology entitled German Women Writers and the Spatial Turn: New Perspectives was published in 2015 as part of De Gruyter's Interdisciplinary German Cultural Series. She is currently working on a book manuscript on bohemian Munich's most famous figure, the countess Franziska zu Reventlow.
Check out Dr. Daffner's co-edited volume, German Women Writers and the Spatial Turn: New Perspectives (De Gruyter 2015), at: http://www.degruyter.com/view/product/433643 or you can find a copy of the book at amazon.com.