Helmut and Mary Liedloff Award for German Majors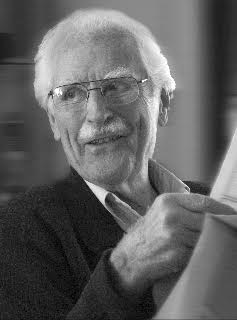 "Dr. Helmut Liedloff was born in 1930 in Bremen, Germany. He received his Doctorate in German and English at Philipps Universität in Marburg before accepting a teaching assistantship at Southern Illinois University in 1957 where he completed a master's degree in English (with a specialization in American literature) in 1962. After teaching German at Milwaukee's Downer College for a year, he was hired as Assistant Professor of German at SIU, where he remained as a very dynamic and much beloved teacher of German from 1964 until 1991 when he retired as full professor, having also served two terms as Department Chair.
During his years at SIU, Dr. Liedloff published six German textbooks, one of which, Deutsch heute, co-authored with Jack Moeller in 1974, was one of the most revolutionary and popular textbooks ever written. Now in its tenth edition, Deutsch heute in the 1980s was used at over 500 universities. Dr. Liedloff's fields of greatest interest are second language acquisition, comparative cultures, and translation. In these fields he published monographs on: Steinbeck in German Translation: A Study in Translational Practices and, most recently, Briefe zwischen Deutschland und Amerika, a memoir about his experiences growing up during the Third Reich and a New World perspective on post-war Germany.
In 1989 Dr. Liedloff received the Illinois Council on Foreign Languages Lieutenant Governor's Award for Contributions to the Profession. And in 1986, together with his wife Mary Liedloff, he generously established the Liedloff Scholarships, nine full-tuition awards for students pursing degrees in German Studies at SIU."   
— Anne Winston-Allen, Professor Emerita of German
Southern Illinois University Carbondale is pleased to invite applications for the 2022-2023 Liedloff Scholarships:
Each award covers a full tuition scholarship for students of German for fall and spring semesters, renewable for up to two years with a minimum 3.0 GPA. This award is available to incoming freshman and community college transfer students. Currently enrolled SIU students may be eligible for the award; subject to availability.
Requirements:
Be a resident of Illinois
For all students who have taken German in high school or community college
Maintain German Studies as their primary (first) major
Maintain full-time enrollment (12 credit hours)
Nominated by a high school or community college German teacher (optional)*
*Teachers, please advertise the scholarship opportunity to your students! If you have students who you believe are particularly strong candidates, please email Mary Bricker, mbricker@siu.edu, so that we can reach out to them personally and invite them to apply.
Application Materials:
Two recommendation letters, one from a German instructor and one from a teacher in another subject
A transcript with SAT score
A personal statement (in English) from the student addressing the following: what are your qualifications, and how would the award benefit you in your future study and career plans?
Liedloff Scholarship Flyer (pdf)
Deadline: January 31, 2022