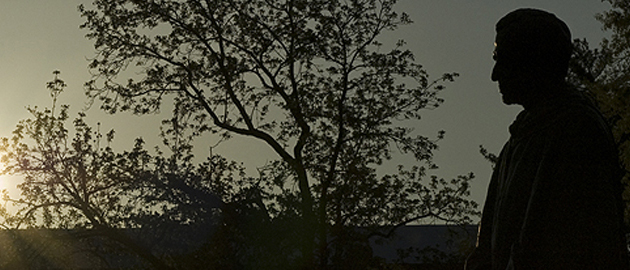 Literary Studies
Students in the Department of English can choose to explore a wide range of fields and theoretical approaches. Select a specialization to learn more.
The program in Old and Middle English literatures embraces a wide range of scholarly and critical approaches: primarily literary history, language studies, historicist, materialist, and feminist.  
The program in Renaissance and 17th Century English Literature combines close readings of texts by canonical as well as non-canonical authors, with a range of critical approaches, including new historicism, gender studies, cultural studies, and postmodernism.
The program in Restoration and Eighteenth-Century Literature covers cultural developments in the British Isles dating from the accession of Charles II (1660) through the early years of the Romantic Era (1785-1815).  Focal topics include colonialism, constructions of race and gender, educational theory, the sentimental movement, and the production and reception of popular fiction.
The program in nineteenth-century British literature embraces a wide range of scholarly and critical approaches: literary history, critical theory, gender studies, and cultural contextualization.
The Modern British Literature area focuses on British and Irish writers of the twentieth and twenty-first centuries and encompasses multiple approaches to literary studies including critical theory, culture studies, gender studies, literary history, and performance theory.
As currently organized, Early American Literature (EAL) stretches from the pre-Columbian period to 1900. Faculty members tend to focus on the nineteenth-century, the sub-area most in demand, with excursions into earlier literatures when appropriate.
Acknowledging the variety and importance of 20th century American literature, the faculty offer courses that approach this material with unusual strategies that are designed to match the distinctive creativity on display.
The Irish Studies area focuses on Irish literature, originally written in Irish or English, from the Medieval period through the 21st century. 
PhD students may choose to pursue studies in Continental Literature and Literary Criticism and Theory as an emphasis which requires a thorough study of English and American literature as well as further study of literature in translation, originating from Continental Europe, and Literary Theory that has been written in or translated into English.
Film Studies in the Department of English is designed to emphasize the creative and humanistic concerns of Mass Communication and Media Arts. As an essential part of the Humanities tradition in the English Department, it plays a key role in the creative and non-vocational aspects of what a College of Liberal Arts should really entail.