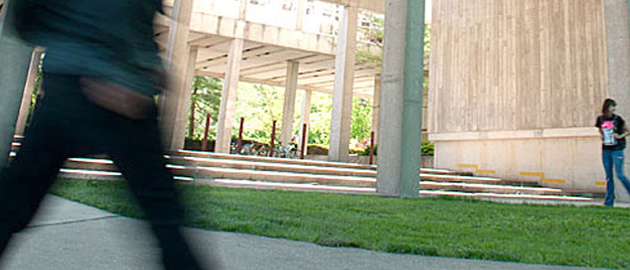 First and Second Year Writing
As you begin your career as a university student, one of the first things you will notice is the difference between writing in college and writing in high school. Perhaps the most obvious of those differences is the number of writing assignments that college students are expected to produce. To be sure, writing is an integral part of every university student's experience (not just that of English or Journalism majors!). The SIU Carbondale Writing Studies Program works to make this experience a successful one by helping students transition from the challenges of high school-level writing to the challenges presented by types of writing that they will be expected to produce throughout college—and even beyond.
  
The primary objective of SIU Carbondale's composition curriculum is to reinforce and build upon literacy skills you've already acquired so that you will be better prepared to meet the demands of academic and professional writing, in particular. Toward that end, every course you take within this curriculum will address various "global" and "local" (or surface) concerns that are associated with writing in a diversity of contexts.  
Such global matters would include:
            ▪ improving your writing processes, 
            ▪ developing your critical and analytical abilities, 
            ▪ expanding your research skills, 
            ▪ increasing your sensibility toward rhetorical conventions,
            ▪ employing strategies for generating, organizing, and supporting ideas,
            ▪ understanding rules for appropriately attributing and citing sources,
            ▪ transferring knowledge between writing tasks and writing courses.
Local matters would include:
            ▪ improving the structure of your sentences, 
            ▪ enriching your vocabulary,
            ▪ editing your papers for grammar, punctuation, and spelling errors, 
            ▪ applying proper methods of formatting.   
All of the skills and strategies mentioned or implied in these lists are crucial to most any writing situation. Your composition instructor will help you learn to apply these skills and strategies in ways that are specific to academic disciplines across the university and/or relevant to various workplace environments. In support of your efforts to master these skills and strategies, your instructor will offer ample feedback on your papers and will provide you a number of opportunities to revise them
Writing Program Staff
While some composition courses you will take at SIU Carbondale are taught by lecturers or professors, most are taught by Graduate Teaching Assistants (GTAs). Each of these instructors completes an intensive training seminar before assuming classroom responsibilities. This initial seminar is complemented by a required semester-long graduate course on teaching college composition. Most importantly, our GTAs are writers themselves. All of our instructors have entered the university to pursue careers as composition scholars, literary scholars, novelists, or poets—with many of them having already published their own work. 
The composition curriculum itself is determined (to various degrees depending on the course) by a committee of professors in the Department of English. The Writing Program is administered by the Director of Writing Studies and several experienced assistants. Any questions or concerns about the curriculum at large or your courses in particular should be directed to these individuals. For an appointment, please call the following number: 618-453-6811 or visit the Writing Studies Office at 2390 Faner Hall.
Whom do I contact for help and information?
For more information or questions about Writing Studies, please contact the Writing Studies Director: Dr. Jane Elizabeth Dougherty.