Our Centers
Research. It's how discoveries are made. It's how we as a College contribute to the University's academic status as a top tier research university. And it's part of how we contribute to the communities around us. Our research and resource centers complement our academic departments by providing students with opportunities for research and hands-on learning in specific fields.
---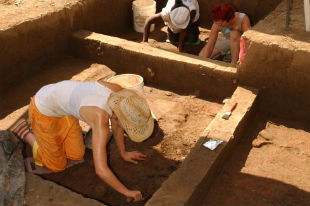 Researching in the field at digs from Southern Illinois to South America to Micronesia, CAI archaeologists and the students who assist them bring the latest technology to the preservation and understanding of the physical record of the past. CAI also maintains an artifact collection for teaching and cultural preservation.
 
---
The Center for English as a Second Language (CESL) is part of the SIU Department of Linguistics and is staffed by members of the University faculty on the Carbondale campus. The intensive English language program at CESL is open to prospective University students, professional people, and others who want to learn English as a second language.
---
The School of Music has a strong tradition of fostering music composition. This center is part of that, focusing on the use of computer technology to create music, but also to preserve music composition and performance, and to aid in digital audio production. All composition students have free access to this center.